Conferences/workshops - Centre for Symmetry and Deformation
See also the guests database and the calendar.
2018:
Masterclass: Mahler measures and special values of L-functions. August 27-31, 2018.
Conference: Young Topologists Meeting. July 9-13, 2018.
Masterclass: Rigidity and algebraic models in stable homotopy theory. April 9-13, 2018.
Masterclass: Tensor triangular geometry and equivariant stable homotopy theory. March 12-16, 2018.
2017:
2016:
2015:
2014:
2013:
2012:
2011:
2010: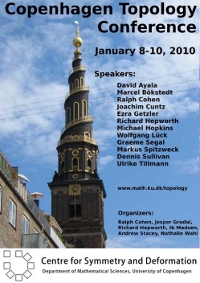 ---
Pre-center conferences/workshops:
2008:
2007:
2006: